The library offers a welcoming, comfortable, and state-of-the-art learning environment and facilities:
200 seats in two large halls
15 individual carrels
7 group study rooms with large LCD screens
Collaborative Study Space at Agbabian Hall
The first floor of the AUA's AGBU Papazian Library
The Circulation and Reference Desk
Located to your right upon entering.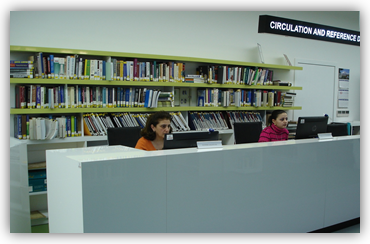 The Web OPAC Station
The public access computer located in front of the circulation and reference desk. Library patrons can use this computer to access and search the Online Public Access Catalog (OPAC) and e-Resources.
Computer Clusters
Located in the 1st and 2nd halls, library desks equipped with computers that are connected to the library printer(s).

Library Desks and Work Stations
Work stations with electrical outlets and extra lighting located in the 1st and 2nd halls.
Individual Study Carrels
Individual private seats with LAN cable and electricity ports, located in the 2nd hall.
Library Study Rooms
Seven study rooms for collaborative work located in the second hall. The rooms are equipped with LCD screens and whiteboards. You may ask for laptops to use in the rooms at the circulation desk.
Library Bookshelves and Periodicals
Organized into reference, available for circulation, and special collections. Located in the 1st and 2nd halls and contain:
– All nonfiction books (including academic and professional)
– Reference books
– Current issues of periodicals
– All multimedia collections
The lower level of the AGBU Papazian Library
Facilities and Rooms
– All fiction books
– All back issues of periodicals
– All archives
– Textbook storage
IT Facilities and Services in the library
Electronic Devices and Technology in the Library
The AGBU Papazian Library provides the following IT services:
Copier Machine – all computers in the Library are connected to the copier machine. Printing and scanning are available.
Computers – access to the Internet, Microsoft Office, Ref Manager application, TOEFL/GRE/GMAT/SAT practice, e-Databases, and e-Libraries.
WiFi – is available throughout the Library premises.
Kindle eBook Readers – are available for borrowing from the Circulation/Reference Desk.
Tablets and Laptops – are available for borrowing from the Circulation/Reference Desk.
CD/DVD Collections – ask the Circulation Desk for availability.
Network Plug-Ins – Landline connections are available through the outlets on the reading room tables.
A projector – is available for use in the Library.
Study Room Monitors – available for Collaborative work in the Study Rooms.